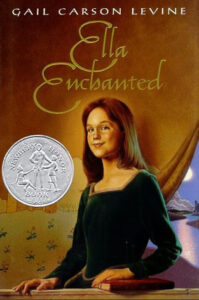 Harrison County Public Library is partnering with the Arts Alliance of Southern Indiana (AASI) and other regional partners in the SoIN Big Read, and you are invited to read along with us!
To kickoff the 2022 SoIN Big Read, Harrison County Public Library's first event will take place this Saturday, October 15th, at the Corydon branch in the Children's Activity Room at 105 N. Capitol Avenue with public showings of the movie Ella Enchanted (2004) at 10 am and 2 pm.
Free copies of the book will be available to pick up at any Harrison County Public Library branch starting Monday, October 17.
More Harrison County Public Library in-person and virtual book discussion events are coming soon.
"We are thrilled to kick off the SoIN Big Read with our partners, The Floyd County Library, Jeffersonville Township Public Library, Harrison County Public Library, Jeffersonville Public Art Commission, and Community Action of Southern Indiana," said AASI Executive Director Brian Bell. "The SoIN Big Read will promote a regional community reading event of Ella Enchanted"
Over 1,000 copies of this beloved Newbery Honor-winning story that is sure to enchant readers new and old will be distributed at no cost at locations throughout Southern Indiana. Each SoIN Big Read partnering organization will host book-related programming, movie events, book discussions, workshops, and podcasts with the intention of fostering engagement and discussion of the book.
At her birth, Ella of Frell receives a foolish fairy's gift—the "gift" of obedience. Ella must obey any order, whether it's to hop on one foot for a day and a half, or to chop off her own head! But strong-willed Ella does not accept her fate…
Against a bold backdrop of princes, ogres, giants, wicked stepsisters, and fairy godmothers, Ella goes on a quest to break the curse forever.
A tween favorite for 25 years, adults who remember the pleasure of discovering this fun fairytale themselves are now sharing this book with younger readers.
For more information about the SoIN Big Read, please click here.