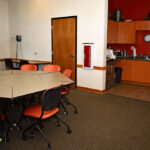 Each of our branches offer spacious, public meeting spaces that can be reserved upon request.  At least 24 hours in advance of a meeting, please include in your room reservation request any HCPL equipment [listed below] that will be needed so that staff may accommodate your group.
Who is eligible to reserve a room?
Civic groups, service clubs, and other nonprofit groups including but not limited to academic and religious study groups, demonstrations, and lessons, who are willing to abide by the rules for meeting room use.
Public officials that need a private room.
What is equipment is available for use with rooms?
Kitchenette
Bathroom
Television
VCR/DVD Player
Overhead Projector (Corydon)
Projection Screen
Podium (Corydon)
White Board (Corydon)
Coffee Pot
Microwave
Range (all except Corydon)
To reserve a room, please download, review, sign, and return the below form to your local branch or click on the link below to register online.  To check availability of a particular room, please call your local branch.
Online registration is available for the Corydon branch only.