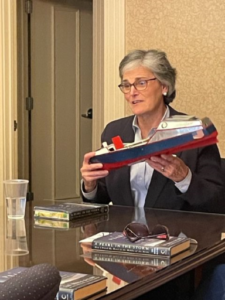 Memories & Memoirs Book Club members were thrilled to have author Tori Murden McClure attend their discussion of her book, A Pearl in the Storm, Tuesday, August 2.  She recounted her first attempt to row alone across the Northern Atlantic and demonstrated how her 23-foot boat, The American Pearl, capsized 15 times during Hurricane Danielle using a model of the Pearl (11 times in one day).
McClure, now president of Spalding University in Louisville, also talked about her family relationships and life in Louisville.
Gary Pope, retired South Harrison Community School administrator and teacher, was asked to revamp HCPL's history and biography book club by Tiffany Thieneman, public services manager.  He reached out to McClure using his connections as a musical accompanist and adjunct professor at Bellarmine University thinking she may do a presentation in the future.  McClure surprised him by agreeing to come to yesterday's meeting.  McClure also told the group that her book has been made into a musical Row which is downloadable from audible and her boat is currently on display at the Frazier History Museum.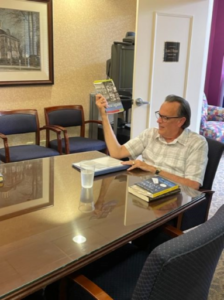 The Memories & Memoirs Book Club meets the first Tuesday each month from 3:00-4:30 PM at the Main Branch in Corydon. If interested in joining Memories & Memoirs, please call Tiffany at 812-738-4110 or click here to register online.
September's selection is Home Again: Essays and Memoirs from Indiana, edited by Tom Watson and Jim McGarrah.