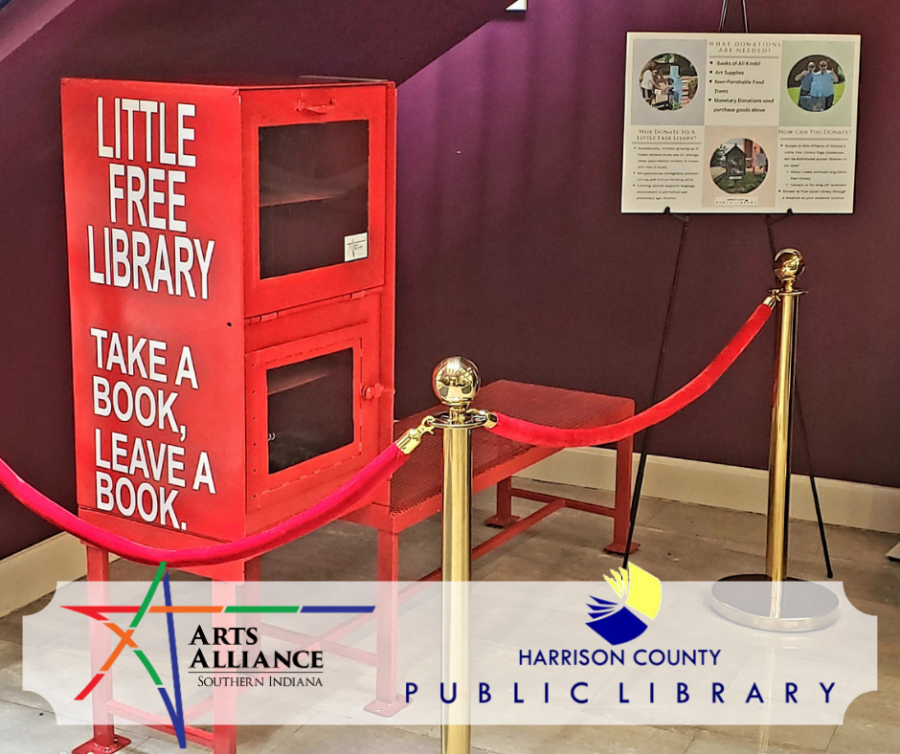 The Harrison County Public Library is delighted to partner with Arts Alliance of Southern Indiana in establishing a Little Free Library in Harrison County. This Little Free Library is a repurposed newspaper box that was designed and painted by local artist Jason Wright. Once the little library is placed, it will be stocked year-round by volunteers with free books, art supplies and nonperishable food items for our community. The Little Free Library is the first to be established through a collaboration between Harrison County Public Library and the Arts Alliance. This partnership plans to add more little libraries in the future.
From October 12 through November 6, the Little Free Library will be on display at the Corydon branch ahead of its official dedication.
If you would like to donate items to the Free Little Library, your donation of books, art supplies and non-perishable food items are welcomed and appreciated! Please contact the Arts Alliance of Southern Indiana for the drop off locations.
If you would prefer, you can give a monetary donation that will be used purchase these items. If you wish to donate, please click here to visit the Arts Alliance of Southern Indiana's Little Free Library page. Donations will be distributed to little libraries across our area.
Why donate to a Little Free Library?
Academically, children who grow up in homes without books are, on average, three years behind children who grow up in homes where reading is encouraged.
Experiencing and creating art strengthen problem-solving and critical thinking skills.
Crafting and creating supports language development in pre-school and elementary-age children.