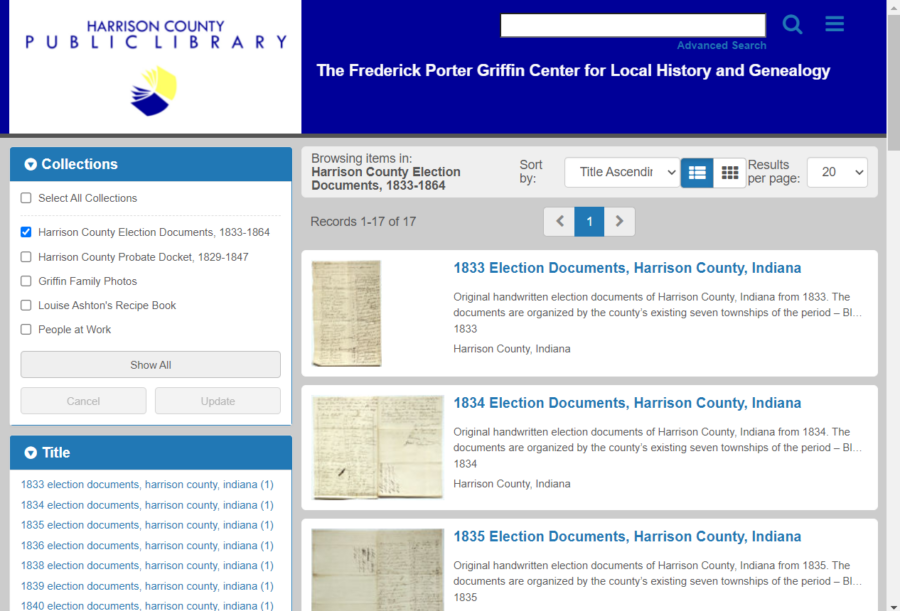 The Harrison County Public Library has recently added Harrison County Election Documents, 1833-1864 to its online digital archives. This collection of important historic documents consists of more than 1,700 images of original nineteenth century election records. Full transcriptions of the documents accompany the digital images and are easily searchable.
These documents are official, handwritten, election records from each township in Harrison County. Elections include local, state, and national ballots and range from voting for township constables and justices of the peace to county sheriffs and coroners, to state officers and legislators, governors, congressmen, and senators, as well as presidents and vice-presidents. Typically, there are three types of documents per township for each election. These are: 1) a list of voters, which is a numbered list of the names of those who voted in the election; 2) a tally sheet that contains tally marks next to the names of each candidates; and 3) an official returns statement that lists confirmed results. For several larger elections there is also a "canvas sheet" that provides totals from across the county. Beginning with the 1856 set of records, printed forms and poll books were used to record the information. However, the information recorded on the forms continued to be written by hand.
Polling sites were located in principal communities within each township such as Bradford, Buena Vista, Corydon, Elizabeth, Laconia, Lanesville, Mauckport, New Amsterdam, New Salisbury, and Springdale. In less populated areas, such as Blue River, Scott, and Spencer Townships, early elections took place at an individual's home, and later at schoolhouse or other community building.
These unique and valuable resources will be of interest to researchers, genealogists, and the public as both important primary sources of Indiana's early history and significant genealogical records that document residency in Harrison County.
This digitization project was made possible by a Library Services Technology Act (LSTA) digitization grant through the Indiana State Library and the Institute for Museum and Library Services (IMLS).