Debi Strubler, circulation assistant at the Main library in Corydon, penned two book reviews for your reading enjoyment.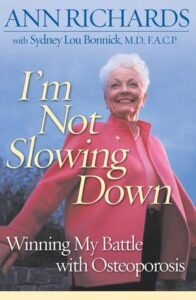 I'm Not Slowing Down by Ann Richards
This book tells how the Former Democratic Governor from Texas is winning her battle with osteoporosis. She suggests that all women get a bone density test.  She explains how the risk of osteoporosis increases with menopause due to loss of estrogen. She warns readers to avoid certain products that can enhance broken bones. She also gives advice on how to help your bones by taking supplements, medications and eating certain foods. She offers over 20 pages of pictures and descriptions of exercises one can do in order to help the prevention of osteoporosis. It is an informative book that is very much a help to all women.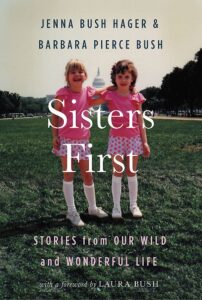 Sisters First by Jenna Bush Hager and Barbara Pierce Bush 
This is a warm, heartfelt, easy-to-read book about the fraternal Bush twins. The book alternates from Jenna to Barbara in stories of their lives as children, young adults and adults. Each twin has a distinct personality and intellect that complements the other. Their grandparents, both maternal and paternal, have had an integral part of developing who they are. There are moments of elation and moments of sadness in the book. It was a delightful read.