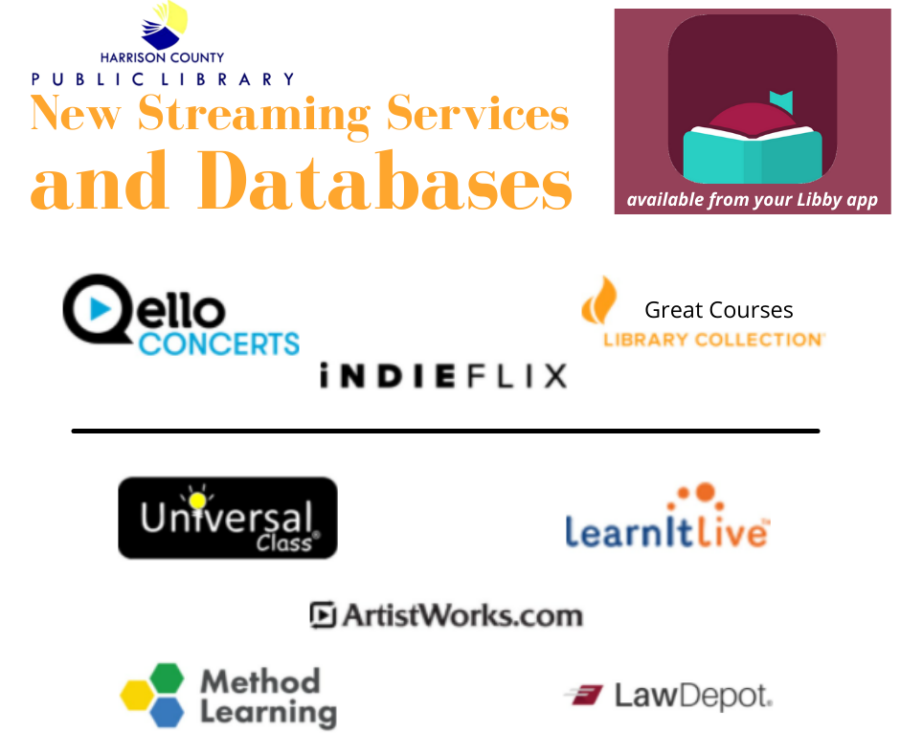 Harrison County Public Library recently added more new and exciting subscriptions to its public digital collection. If you do not currently have an HCPL card, or your library card has expired, you may apply online for a Digital Access Card, or apply for/renew a resident library card.
These streaming services and databases are all available via the Libby app from your Libby library , select Extras. Libby is available for free from the Apple Store and Google Play. Click here to access Libby from your favorite web browser.

CLICK HERE to download a brief step-by-step guide to accessing these streaming services and databases.
New databases

iNdieFlix streams classic and contemporary features, award-winning shorts, film festival favorites and documentaries from around the world. Explore thought-provoking, well-known and undiscovered content. iNdieFlix works directly with young up-and-coming filmmakers from all walks of life to seasoned professionals paying them for every minute watched.
iNdieFlix tutorial available from HCPL Niche Academy
Thousands of full length feature films, shorts, documentaries and series from around the world
Diverse voices, pop culture favorites and box office hits
Award-winning feature films, documentaries, and shorts
Thousands of hours of commercial free programming
Academy Award winning animation
Please note that some iNdieFlix content may include mature themes and language.

Stream the world's largest collection of on-demand full-length music performances, concert films, and music documentaries. Qello Concerts transforms your connected devices into the ultimate live music concert film experience. Give your favorite headliners a standing ovation from the best seat in the house anywhere, anytime!
Qello tutorial available from HCPL Niche Academy
1000s of concert films and documentaries
New concerts added every week
Streamed live concerts with major partners
Available on all your streaming devices
Please note that some Qello content may include mature themes and language.

The Great Courses Library Collection video streaming service is brought to you by The Great Courses—the leading global media brand for lifelong learning and personal enrichment. This collection includes more than 250 courses, led by the world's top experts, covering a broad range of subjects, such as science, mathematics, philosophy, history, literature, fine arts and music, travel, business, and personal development.
Great Courses tutorial available from HCPL Niche Academy
Over 250 unique courses to capture your curiosity or help you to improve in areas you are passionate about
3,000+ hours of carefully curated and commercial-free, entertaining and engaging content
Courses taught by brilliant, award-winning, and trusted experts in their fields
Twelve categories for all types of patrons with new content monthly
Guidebooks for each course to supplement course material
New streaming services

(Available October 22, 2021) ArtistWorks provides players world-class instruction from Grammy Award-winning music professionals. ArtistWorks for Libraries offers users a guided path of video lessons containing everything they need to reach their musical goals. All levels of player are welcome!
ArtistWorks tutorial available from HCPL Niche Academy
Blues, Bluegrass, Jazz, Rock, Classical and More
Hundreds of hours of high quality video instruction
Studio quality play-along tracks
Downloadable written materials, tablature and sheet music
Supported languages: English

(Available October 22) LawDepot's extensive library of documents and legal resources provides easy-to-use assistance with a wide range of legal needs empowering patrons to create legal documents specific to their personal situation.
LawDepot tutorial available from HCPL Niche Academy
Hundreds of customizable legal documents
Easy customization through on-site prompts
BBB A+ rating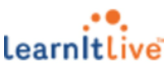 (Available October 19) Learn It Live is a place to find and attend live online classes on 200+ topics in health, wellness, and personal development. At LiL, you can join a live yoga, pilates, or meditation class and interact with an expert on the other side of the globe. Can't make it live? Watch one of the 1,000+ recorded classes at any time.
Daily live classes
1,000+ Recorded Classes
200+ Topics Covering Health, Wellness, Spirituality, Career and Personal Development, and More!

(Available October 19) ACT® and SAT® test prep solutions from Method Learning are proven to raise scores! Tutoring, classes, and practice tests.
150 points higher on the SAT, 3 points higher on the ACT
Learn every trick, strategy, and technique needed to raise ACT and SAT scores
Course includes full-length, timed practice exams
Video and audio lessons and explanations. Students learn best when they can see/hear the instruction
Supported languages: English

(Available October 19) Universal Class is the place to continue your education online and fulfill all your lifelong learning goals.
Universal Class tutorial available from HCPL Niche Academy
500+ online courses on just about anything ranging from cake decorating to accounting & bookkeeping
Accredited CEUs for professional development
Self-paced, easy-to-use, 24/7 access – learn anything, anytime and anywhere
Supports assessments for the serious student or a view only version for the casual learner
Supported languages: English