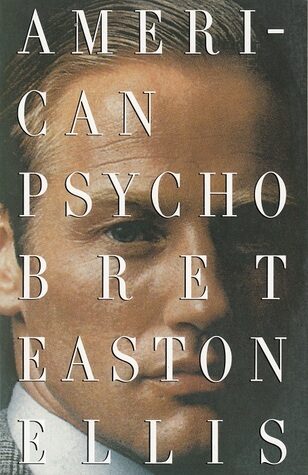 Chelsea Arnold, circulation associate at the Palmyra branch, submitted for your consideration the following review of American Psycho by Bret Easton Ellis.
This book is just too much. And I mean "too much" in every sense of the phrase. The irony is on a level that I have never experienced before and am doubtful that I will experience it again. A few years ago, people were saying to go back and re-read 1984. If you read American Psycho in the 90s or 2000s, I recommend you re-read it as well. It is one of those novels that feels decidedly more eerie in the present than it ever could have in its prime. Life has a funny way of reflecting art, and satire ages like fine wine.
Before I go any further, I feel I should run a disclaimer. This book does contain GRAPHIC CONTENT. I do not want anyone to dive in without being prepared for that. 
This book is a look at society in its most self-centered state. The main character, Patrick, is a narcissist, as are all his friends, colleagues, and paramours. He works on Wall Street. He is young, handsome, and well to do. He spends an inordinate amount of time on primping and prides himself on his ability to recognize every name brand piece of clothing he sees on someone. He only dines at the 5-star restaurants that he does because of the magazines he reads and the people he admires. He is trying to keep up with the Joneses. Only the last name is not Jones…
But I digress. 
Patrick has homicidal tendencies and a loose grasp on reality when the book starts. The tendencies heighten and the grasp unravels as the book progresses. I'm still not sure if the "psycho" in the title stands for a psychopath or psychotic, two totally different diagnoses. However, Patrick embodies a good bit of both. His disregard for human life (though he does fake it with the occasional compassionate speech when in the presence of others, despite the vitriolic disdain he actually feels for homeless people/minorities/women/you name it in private) lends itself to psychopathy. The artificial, almost rehearsed way he recites things off his head as if he memorized an album or restaurant review verbatim lends to psychopathy. The intense narcissism and unfazed ability to hack people up obviously lends to being a psychopath. However, when he is running through the streets eating ham out of a can while hallucinating, or believing that he is having a telepathic exchange with Bono, that lends to psychosis. I would say that he is a psychopath who has episodes of psychosis. Talk about a worst-case scenario.
I know there is a great debate about whether all of this really happened, or just happened in his head. Honestly, that is irrelevant to me. Though, personally, I think it was a little bit of both. 
The book, to me, is not so much about him being totally out of his head as it is about the blind eye everyone around him turns to it. His craziness becomes less concealed and less concealed, and people are still oblivious to it. He can tell them straight out "I killed three people last night" and no reaction. You have to wonder if it is willful ignorance on their part, or the inability to see past themselves to take note of the storm whirling a path of destruction right in front of them. As for his girlfriend and secretary who think they are in love with him, they are so focused on the singular goal of getting married for the sake of getting married, they do not take even a second to get to know his real personality…which is completely and totally deranged. Everyone is out for them. So what if Bateman killed a whole cadre of people? That does not affect me. And I never cared about those people's well-being to begin with, so no biggie if I ever learn they are no longer breathing. Clean it up, and keep it moving. That is the mindset of his crowd. 
It begs the question: What is the most dangerous emotion?
Anger? Jealously? Greed?
Or is it not a consuming emotion that is supremely dangerous, but the lack thereof? 
 While on some level this novel is a testament to the yuppie consumerism/materialism of the 80s, it is also a case study in apathy. 
One has to wonder what Patrick Bateman would be doing in this era. Would he be struggling or thriving? Would he have taken his vanity to social media and be Instagram famous? And what would he think about having to share his idol with so many new and unlikely fans?