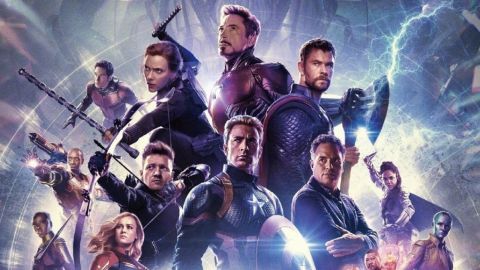 The End[Game] is nigh!
Last week, we shared some book recommendations for our favorite Game of Thrones characters, which worked out well since they spent a nice quiet evening around the hearth on Sunday. This week, not only will we likely say goodbye to just, like, so many of them, but we'll also be treated to the wrapping up of the current phase of the MCU. Avengers Endgame arrives this weekend and it will make all the money revealing how Earth's Mightiest Heroes most likely defeat Thanos, the Mad Titan/extremely buff California Raisin.
Whether they were snapped out of existence or not, our favorite team members have had plenty of time to sit back and ponder this since last spring. We're hoping they spent that time reading these books.
Captain Marvel
Circling the Sun by Paula McLain
You know who rules? Carol Danvers. You know who else rules? Beryl Markham. The British-born aviator was raised in Kenya, became one of the first bush pilots, raced and trained horses, and also was an author. This book is teeming with Beryl's fiery determination, interesting characters and, of course, flying.

The Hulk
This Body's Not Big Enough for Both of Us by Edgar Cantero
Too on the green nose? This story about two private eye detectives who share a body is flawless from start to finish and loaded with pop culture references and humor. This is what you'd get if you took Roger Rabbit and mashed him together with Eddie Valiant AND Jessica Rabbit. The only negative is that the story has to end.

Iron Man
Elon Musk: Tesla, SpaceX, and the Quest for a Fantastic Future by Ashlee Vance
Imagine an insanely rich, insanely successful entrepreneur who becomes reclusive attempting to create something entirely new and innovative that he thinks can change the world. The happy imagination would conjure thoughts of Tony Stark, our first Avenger. Some might think of Elon Musk (or Howard Hughes)…

The Winter Soldier
The Maze Runner by James Dashner
The internet's favorite Avenger shares something in common with Thomas. Neither of them can remember much of their questionable past. The Maze Runner opens up an incredible series about intrigue, mystery, and government conspiracy. Something ol' shiny arm can relate to.

Star-Lord
Daisy Jones & the Six by Taylor Jenkins Reid
Classic rock is a staple of the lead Guardian's whole shtick so what better book for him to check out then the new oral history of a world-famous 1970s rock group and the secrets behind their dramatic break-up. Wouldn't it be fun to poke fun at Star-Lord by explaining to him that this is a fictional band. He deserves it for blowing the original plan to stop Thanos, anyway.

Thor
Norse Mythology by Neil Gaiman
Admit it. You want to see Thor yell, "That's not how it happened!" while angrily throwing the book across the room.