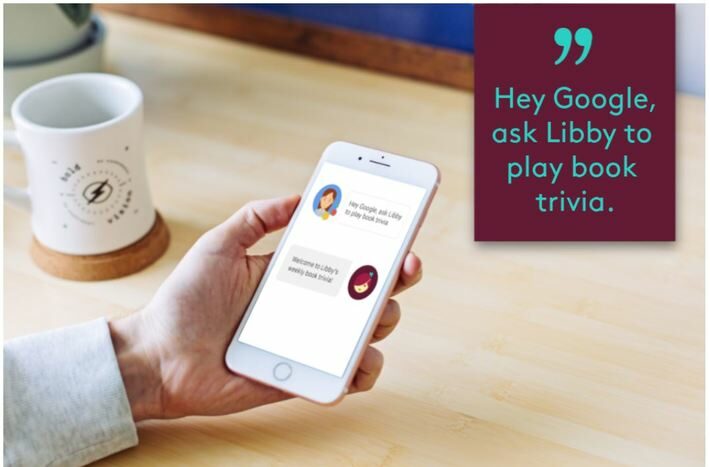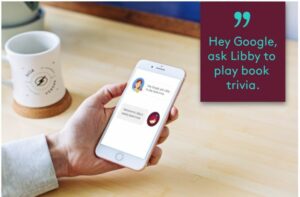 For the past few years, Libby has been connecting readers to new books and their favorite authors at a record pace, as libraries continue to be a driving force for digital reading and literacy. The award-winning app has constantly added exciting new features, most recently making it easier than ever to enjoy audiobooks in your car with the integration of Apple CarPlay capabilities.
Test your literary knowledge
Today, OverDrive has added a fun, unique way to interact with Libby to test your book smarts, literally. Libby Book Trivia Quizzes have been added as a new Google Action. For the past year, you've been able to have Libby find libraries, borrow, place holds and get book recommendations through Google Home and smart devices. Now, you can test your literary knowledge by opening up the Google Assistant app and taking the Libby Book Trivia Quizzes. Each week, a new quiz will be added with fun themes including page to screen, famous first lines, award-winning books and much more. The program launches today with a Harry Potter-themed quiz to celebrate the birthday of the boy who lived.
Each quiz will include multiple-choice, true/false and fill-in-the-blank style questions as well as fun facts about the books being mentioned. After the quiz is over, we'll show you your score and then provide links to learn more about each title mentioned plus the option to borrow or place them on hold if your library owns the title.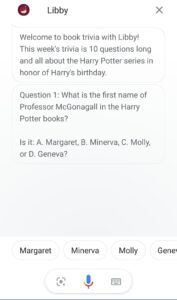 As previously mentioned, each week there will be a fun new quiz available, so be sure to check back frequently and test your book smarts! Even if you don't get a 100% every time, you're sure to find some great new book recommendations or rediscover classic titles you've long forgotten about.
Information courtesy of Rakuten OverDrive