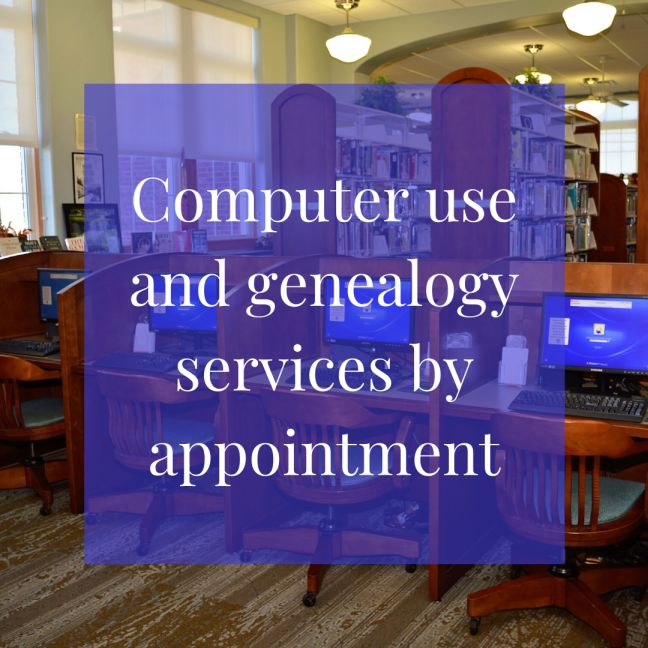 The public can once again use computers at all Harrison County Public Library branches, but people must make an appointment in advance.  Appointments will begin Monday, June 1.
"People may register for one 60-minute session by calling their library branch," said Alisa Burch library director.  "At this time no extensions will be allowed unless by prior arrangement.  We are taking precautions to ensure the safety of the public and our staff."  
Precautions include:
Only one person per time slot/computer (unless patron brings someone to assist them on the computer)

Only adults age 18 or older will be allowed in the building.

No headphones will be provided.  Patron may bring their own if needed.

Access to the building will be limited to the assigned computer.  No browsing or restroom facilities will be available.

Computer users must wear a mask or face covering.

All people in the library are required to observe social distancing of at least six feet.
The library is also offering genealogy services by appointment at the Frederick Porter Griffin Center.  Those wishing to do research should call the FPGC at 812-738-5412.  In addition to the safety precautions already noted these additional procedures will be observed.
Those making appointments will be asked, "What is your research focus" so staff may gather information in advance and to guarantee the documents needed are not in quarantine.  
Staff will pull ALL materials for patron.

Only one researcher will be allowed in the building at a time (one helper will also be allowed)

Researchers will be asked to stand behind sneeze guards at the information desk when seeking assistance or copies.

Researchers must wear a mask or face covering in the library building.

No restroom facilities will be available.
"Do not enter any library facility if you are feeling sick or if any member of your household is sick," added Burch.  "We ask anyone, staff or public, to do this two question self-assessment:
Do I feel like I have a fever? (if in doubt take your temperature)

Do I have a persistent cough not related to an allergy or other known condition?
If you answer yes to either question, do not enter the library," continued Burch.  "Cancel your appointment and reschedule after you and other members in your household are well."
The library will continue to offer curbside pickup of books, magazines and DVDs and curbside document services.  Plans are underway to offer public access to all library buildings beginning June 15.
Hours for computer and genealogy services and curbside pickup and document services are:
Main Branch – 105 N. Capitol Ave., Corydon – 812-738-4110
Monday-Thursday 10 am – 7:30 pm
Friday & Saturday 10 am – 4:30 pm 
Palmyra Branch – 689 Haub St, Palmyra – 812-364-6425
Monday-Thursday 11 am – 7:30 pm
Friday & Saturday 9 am -4:30 pm 
Lanesville Branch – 7340 E. Pennington St., Lanesville- 812-952-3759
Monday-Thursday 12 -7:30 pm
Friday & Saturday 9 am -4:30 pm 
Elizabeth Branch – 5101 S. Main St, Suite 109, Elizabeth – 812-969-2899
Monday & Thursday 1-6:30 pm
Tuesday & Wednesday 1-7:30 pm
Friday & Saturday 10:30 am -3:30 pm
Frederick Porter Griffin Center – 117 West Beaver St., Corydon – 812-738-5412
Monday – Saturday 10 am – 4 pm