OverDrive expressed that they stand in solidarity with the Black community and believes that we can and must find ways to do more. Black Lives Matter: Community Reads is an OverDrive digital book program created to provide simultaneous access permissions to important titles on social justice and anti-racism.
The titles included in OverDrive's Black Lives Matter: Community Read program are focused on #ownvoices and are intended to help us to read, listen, learn and grow as we expand our knowledge of race relations.
The audio book The New Jim Crow: Mass Incarceration in the Age of Colorblindness by Michelle Alexander is available now from OverDrive with no wait list.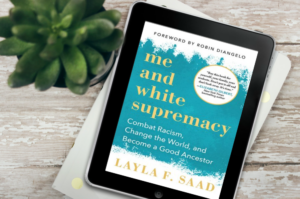 Me and White Supremacy: Combat Racism, Change the World, and Become a Good Ancestor by Layla F. Saad will be available as an OverDrive eBook starting on Monday, June 22, 2020. This title will be immediately available to read with no wait list as well; stay tuned to HCPL Library News for the link to this eBook when it becomes available.
Listen to an interview with Layla F. Saad on the Professional Book Nerds podcast: