Harrison County Public Library is helping to bring awareness to food insecurity during September for Hunger Action Month through book displays at the Corydon and Palmyra branches. Dare to Care Community Activation Manager Heather Gotlieb reached out to the library for assistance and wrote, "We're doing everything we can to make this month an all-hands-on-deck effort to let the community know how we can work together to end the cycle of hunger."
Want to help feed those who are hungry in Harrison County?
Give food or monetary donations to Harrison County Community Services (HCCS)
Volunteer at a local food pantry or place that serves meals: HCCS, Corydon Baptist Church, Corydon Church of Christ, St. Mary's Catholic Church, Victory Baptist Church, Father Provides Oasis Ministry Center and the Corydon Presbyterian Church Monday meal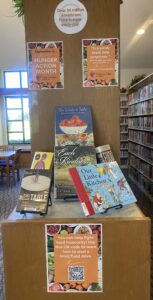 Drop off non-perishable food at a Little Free Pantry

Boys and Girls Club of Harrison County – 134 Jenkins Court NE, Corydon
Harrison County Public Library – Lanesville branch, 7340 Pennington Street NE, Lanesville
Mauckport Community Church – 12210 Main Street SW, Mauckport
Boone Township Fire Department -10850 Highway 11 SE – Laconia
Ramsey Fire Department Station #1 – 8325 Maple Street NW, Ramsey
Palmyra Fire Department – 595 Main Street NE, Palmyra

Mark your calendar for January of 2024 for the annual Feed Harrison County Winter Reading Challenge sponsored by Harrison County Public Library:

During January, the county is encouraged to read to meet a specific goal. Local businesses sponsor the program and donate food or funds to HCCS, a Dare to Care food recipient
For the past 3 years, Tyson has donated 100 cases (40 lbs. each) of frozen chicken. During the last 2 years, Walmart has given a $75 gift card to purchase food. Our newest sponsor, Duke Energy, donated $1,000 to purchase food last winter.
Library branches collect food to donate to HCCS during January

Check out a book from the display about hunger
Celebrate Hunger Action Month by donating, volunteering or finding out more about food insecurity at the Dare to Care website.  If you are interested in becoming a sponsor of the Feed Harrison County Winter Reading Challenge, please contact the library at 812-738-4110.