Library Director Alisa Burch was recently named a Nonprofit Visionary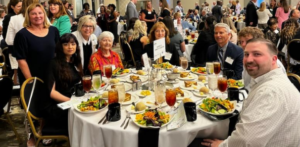 Leader by Louisville Business First in recognition of her outstanding vision and leadership of the Harrison County Public Library.  Burch received her award during the Partners in Philanthropy luncheon and ceremony at the Galt House on August 22, 2023. In attendance were her husband Kevin Burch, mother Christine Pendleton, Library Board President Kathy Crimans, Vice-president Sharon Mathes, Treasurer Derrick Grigsby, IT Head Jessica Stroud and Harrison County Community Foundation Marketing Coordinator Tyler Best.
Burch was nominated by the Harrison County Community Foundation President and CEO Julie Moorman. Burch has a 26-year library career at HCPL and was appointed the library director on January 1, 2019.  She successfully managed the library through the pandemic, created a fine free library and added a Library of Things for checkout. Burch places priority on making the library a welcoming space, collaborates and partners with area businesses and schools, and is currently working on creating a makerspace at the Lanesville branch.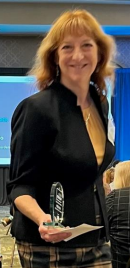 Honorees were asked to give a brief statement about their business vision when receiving their awards.  Burch enthused, "My vision for the Harrison County Public Library is to create welcoming physical and digital spaces where all residents have access to free resources and tools to increase their knowledge; and places that meet the recreational, professional and educational needs of the entire community."
Meet all thirteen 2023 Nonprofit Visionary Leaders and the Volunteer of the Year who are making Greater Louisville a better place at the Louisville Business First webpage. This is the second year for the awards.