September is Indiana Archaeology Month and the Frederick Porter Griffin Center (FPGC) for Local History and Genealogy is celebrating with "Saturday Spotlights." Special programming will be offered between 10 a.m. and 4 p.m. on Saturdays during September.
Each year Indiana's Department of Natural Resources Division of Historic Preservation & Archaeology features an aspect of the Hoosier state's archaeological history. This year's theme focuses on early industries in Indiana. From agriculture to manufacturing, industry has been important to Harrison County from its beginnings.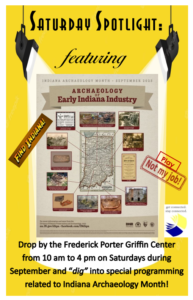 You are invited to drop in and join the head of genealogy Kathy Fisher to discover some of these stories through engaging fun while exploring historic Harrison County businesses and jobs. Stop by and "dig" into Harrison County history by exploring files with Kathy or through a scavenger hunt to "Find Indiana" …pictures of Indiana Jones will be hidden throughout the collection. Test your knowledge of antiquated occupations with a "Not My Job!" quiz. Kathy hinted, "There might be a few other surprises. I hope to get more people interested in local history and I am most excited about the job quiz."
Kathy stated, "Saturday Spotlights are used to 'shine a light' on offerings from the genealogy branch that people might not even know we have." The FPGC houses physical and digital records, donated materials, and some artifacts including Sidney D. Crosier paintings. Materials include photos, files, newspapers and yearbooks. FPGC offers access to Ancestry.com and Fold3.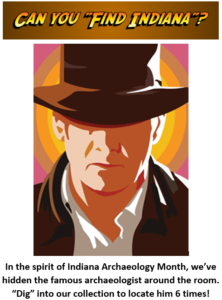 The Frederick Porter Griffin Center for Local History and Genealogy is located in the county's original Carnegie Library building directly behind the Corydon branch of HCPL at 117 West Beaver Street, Corydon. For more information, call 812-738-5412.