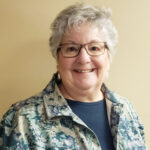 Long-time library board member Suetta Tingler's term ends October 31.  A reception was held on Thursday, October 19 at Kent Java to honor Harrison County Public Library Board of Trustee Suetta Tingler as this was her last day of service as a trustee.  Tingler was given a plaque recognizing her active service and a Zimmerman glass bowl.
The plaque stated, "The Harrison County Public Library Board of Trustees and staff wish to express our sincere gratitude to Suetta Tingler for her years of dedicated and active service to the Harrison County Public Library as a member of the Board of Trustees."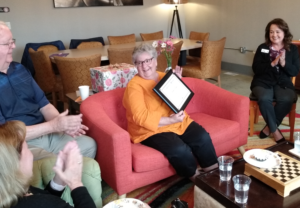 Suetta Tingler was appointed to the HCPL Board of Trustees by the Harrison County Commissioners and has served two full terms. A term on the library board lasts for four years and the board meets monthly. Since her first board member meeting in February 2016, Suetta has held positions of vice president, secretary and assistant treasurer. Tingler stated, "Every time I sat at the board table, I felt it a privilege to be a part of such a special group of dedicated, talented and hardworking individuals who love their library."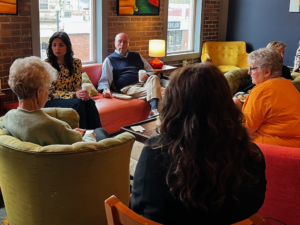 Director Alisa Bruch said, "She (Tingler) was integral in decisions made to replace the windows at the Main branch and selecting fabrics to recover the computer chairs at Main and the chairs in genealogy."
When asked about her accomplishments on the board she was proudest of her work on the "windows of all things!" She responded, "I first began educating myself about seals, tilt, grills, reflective value, UR blockage, warranties, installation, costs and more. I researched and visited vendors locally as well as across Louisville." After research, she brought two companies before the board for selection approval. Tingler's time investment in the project ensured that the library received quality window replacements.

When asked if there was anything that she would like to share, Tingler stated, "The Harrison County Public Library is truly a community "hub" for welcoming all people as it works to provide information, education, entertainment and general hospitality."  She continued, "Great things have come to the Harrison County Public Library and will continue to do so. It's a library to be proud of as it works to keep up with the changing times that have included going "fine free", working to improve the arts/cultural climate of the county, providing "hotspots", programs tailored to all ages, the Storywalk along the trail, the upcoming Makerspace and much, much more."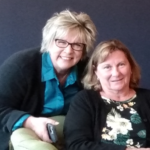 Burch added, "Suetta invested her time for the benefit of the library including attending Trustee training in Indianapolis and the Board of Governance training at the Harrison County Community Foundation. Suetta has been a very active and devoted member of the library board of trustees and will be missed. The library wishes her good health, happiness and continued success."