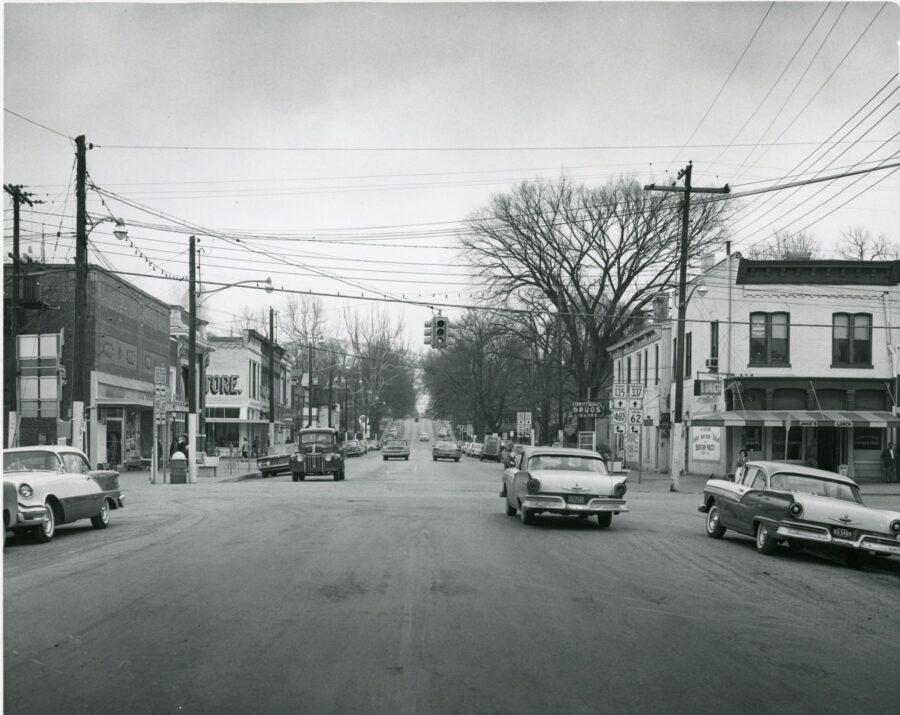 By Teresa Douglass, Genealogy Assistant
Ever been curious about what Harrison County was like in years past? Like to look at old photographs? Researching your family history? Have a parent or grandparent that attended an early Harrison County school or an ancestor that was a World War II veteran?  If you answered "Yes" to any of these questions, then you should check out
HCPL's Digital Archives.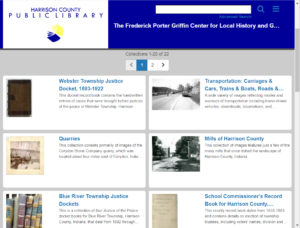 HCPL's Digital Archives is a website displaying numerous collections of images that reflect the rich and varied history of Harrison County and its residents from the early 19th century to the near present. Collections range from historical records and documents to a vast assortment of photographs of people, places, and events. Come and explore, you'll be amazed at what you find! For example …
See what it was like to attend a one-room rural schoolhouse, take a tour of the many mills that once flourished throughout the county, and visit some of the county's churches as they once were.
Attend the Pancake Festival of the 1960s or view the floats, bands, horses, and beauty queens in the Centennial Fair Parade and the Indiana Sesquicentennial Parade.
Go to the fair – See a ticket from the first Harrison County Fair in 1860, or what the fairgrounds looked like in 1900. Read a program from a 1939 horse race and find out who the grand champion livestock winners were in the 1940s.
Travel over early roads and bridges, ride the LNA&C Railroad, and catch a steamboat down the Ohio.
See some of the many Harrison County residents who served in the military during WWI & WWII.
Visit downtown Corydon in the 1880s, 1910s, 1930s, and 1960s, and observe how the town has evolved. Notice the change in streetscapes, and what buildings and houses are gone and which ones remain.
View Corydon baseball clubs from the 1890s and basketball teams and players from 1916 through the 1950s. See routines of Corydon cheerleaders from the 1940s and 50s.
And those are just SOME of the photographs. HCPL's Digital Archives also contains several historical documents, all of which have been transcribed and are easily searchable. Whether you are researching your family or just curious about local history, these documents provide a glimpse into what everyday life was like for many residents in Harrison County.
Looking for a particular ancestor? Simply type their name in the search box at the top of the page, and the results will show how many times the name appears in the collection and on what pages. You might find that your ancestor was a founding member of the Harrison County Agricultural Society, or a Civil War veteran, or a member of the Woman's Literary Society. Perhaps your ancestor worked on a tugboat in the 1930s, or had his photograph taken in front of the courthouse before leaving for boot camp. You could discover your parents or grandparents high school commencement program, or the type of brand an ancestor used to mark his cattle. You might be able to glean information on family relations and property ownership through perusing probate, township, or insurance records. And you can search justice dockets to investigate if your ancestors had any disputes with their neighbors, or were involved in something more notorious!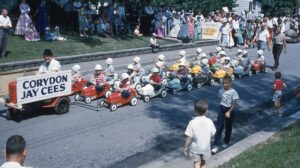 So, come look… explore… discover….HCPL's Digital Archives.
Click on this link to visit the Digital Archives.
The site can also be reached through Harrison County Public Library's website – go to Branches and select the Center for Genealogy and Local History, scroll down and click on the button marked Digital Archives – or through Indiana Memory and select Collections Across Indiana, then click on Harrison County on the map; or select "Contributors" at the top of the main page and choose Harrison County Public Library from the alphabetized list. A list of our collection titles will appear, choose any of them and it will direct you to our digital archives.
All items featured on HCPL's Digital Archives are items in the Frederick Porter Griffin Center for Local History and Genealogy. Visit us in person & explore even more local history. We are located in the original Carnegie Library building at 117 W. Beaver Street, just behind the Main library branch building in Corydon.